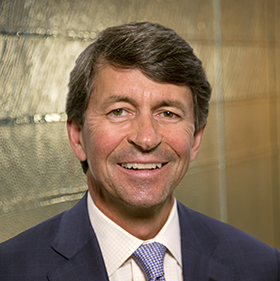 Mark Begor
CHIEF EXECUTIVE OFFICER
Mark Begor was named Chief Executive Officer of Equifax and a member of the Board of Directors in April 2018.
Bio >>

Dann Adams
President, Global Consumer Solutions
Dann Adams leads the Equifax Global Consumer Solutions business, which provides credit monitoring and identity management services and other direct-to-consumer solutions and services across the U.S., the UK and Canada.
Bio >>

Prasanna Dhoré
CHIEF DATA AND ANALYTICS OFFICER
Prasanna Dhoré serves as the Chief Data and Analytics Officer at Equifax guiding the company through its greatest technology and decision sciences transformation in 100 years.
Bio >>

Jamil Farshchi
Chief Information Security Officer
As the Chief Information Security Officer, Jamil Farshchi is responsible for ensuring the security of the company's digital assets as well as tasked with transforming the Equifax cybersecurity program into a world-class capability.
Bio >>

John Hartman
President, International
John Hartman leads the company's international operations, with responsibility for businesses in Latin America, Europe, Asia and Canada. He also oversees the ongoing expansion efforts into emerging markets.
Bio >>

John J. Kelley III
Corporate Vice President, Chief Legal Officer
J. Kelley joined Equifax as Chief Legal Officer and Corporate Vice President in 2013. He has responsibility for legal services, global sourcing, compliance, government and legislative relations, and corporate governance.
Bio >>

Rodolfo O. Ploder
President, Workforce Solutions
Rudy Ploder leads the company's Workforce Solutions business, which is a leading provider of human resource, compliance, analytics and verification services.
Bio >>

Coretha M. Rushing
Chief Human Resources Officer
Coretha Rushing serves as Chief Human Resources Officer. She has global responsibilities for the human resources center of excellence that includes community affairs, human resources operations and more.
Bio >>

Laura Wilbanks
Chief Marketing Officer
Laura Wilbanks is the Chief Marketing Officer for Equifax and leads all core global marketing functions including innovation, strategy, brand, communications, pricing, insights and solution marketing.
Bio >>
Mark L. Feidler
NON-EXECUTIVE CHAIRMAN, EQUIFAX INC.
FOUNDING PARTNER, MSOUTH EQUITY PARTNERS
G. Thomas Hough
Retired Americas Vice Chair of Ernst & Young LLP
Siri S. Marshall
Retired Senior Vice President, General Counsel and Secretary, General Mills, Inc.
Robert W. Selander
Former President and Chief Executive Officer, Mastercard Incorporated and Mastercard International
Robert D. Daleo
Retired Vice Chairman, Thomson Reuters
L. Phillip Humann
RETIRED EXECUTIVE CHAIRMAN, SUNTRUST BANKS, INC.
Scott A. McGregor
Former CEO, Broadcom Corporation
Elane B. Stock
Retired Group President of Kimberly-Clark International
Walter W. Driver, Jr.
Chairman, Southeast, Goldman, Sachs & Co.
Robert D. Marcus
Non-Executive Chairman, Ocelot Partners Limited
John A. McKinley
CEO, SaferAging, Inc. and Co-Founder, LaunchBox Digital
Mark B. Templeton
RETIRED PRESIDENT AND CEO, CITRIX SYSTEMS, INC.
Audit Committee
Robert D. Daleo, Chair
G. Thomas Hough
John A. McKinley
Mark B. Templeton
Governance Committee
Siri S. Marshall, Chair
Walter W. Driver, Jr.
Mark L. Feidler
Robert D. Marcus
Compensation, Human Resources & Management Succession Committee
Robert D. Marcus, Chair
Mark L. Feidler
L. Phillip Humann
Siri S. Marshall
Technology Committee
John A. McKinley, Chair
G. Thomas Hough
Scott A. McGregor
Elane B. Stock
Mark B. Templeton
Executive Committee
Mark L. Feidler, Chair *
Robert D. Daleo
Robert D. Marcus
Siri S. Marshall
John A. McKinley